Pop Culture Press Issue 50
Winter 2000
by Boon Sheridan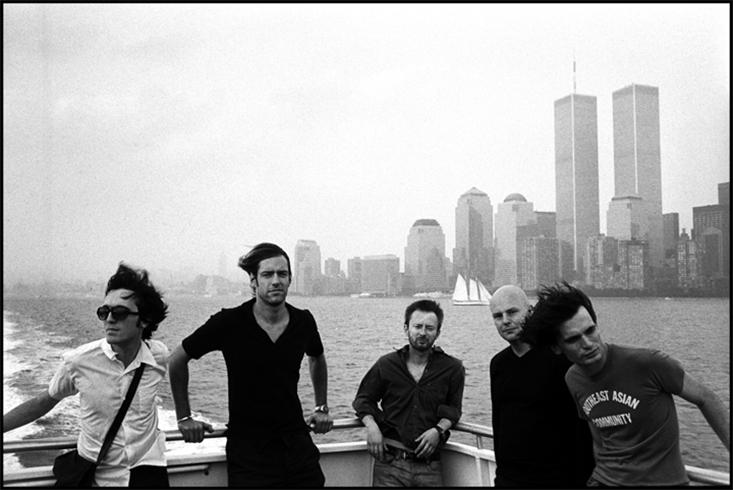 Being a member of Radiohead hasn't always been easy. After releasing their last album, the found themselves trying to live up to comparisons to The Beatles and suffering intense, if well meaning scrutiny. It's hard to think of another band that has had their motives, methods and meaning questioned so deeply. It was a telling statement when the video chronicling their last tour was an expose on the overwhelming , oppressive and receptive nature of media's constant examination. By all reports, life is much better for the five men from Oxford. This is only reinforced when guitarist Jonny Greenwood calls from Dublin to chat about recording the new album and future plans for the band. It is shortly before sound check and Greenwood is good natured and jovial. Rather than being dismissive, he answers as many questions as he can and is profusely apologetic when he states he is being given the evil eye and is about to be physically dragged off to a sound check.
If they had hoped to avoid a critical eyeballing by the low-key release of their new album, one might say it's been a glorious miscalculation. Musically, the band continues to challenge their listeners, covering new territory in song structures and instrumentation. Beyond the music, the band has decided to embark on a new direction releasing and premiering their work. There are no singles planned for this album and no officially released single for radio. They're shunning the standard, grinding tour mechanism for a more scaled back approach. Finally, they've turned their back on the video machine that helped make them famous, opting for a unique method of releasing their own videos on the internet. "We don't want to fall back on the pattern of releasing an album and a video every three years and then touring for it. We want to start releasing an album a year or so and tour every now and then. We definitely want to release more material." One would have to admit that it's working when Kid A debuted at the top of the Billboard 200 chart.
Greenwood has plenty to say about the recording of the album but points to some of the influences they took into the studio. While Yorke was going through the entire Warp Records back catalogue, Greenwood and others were listening to Miles Davis (he points to Bitches Brew specifically) and 'a lot' of Charles Mingus. It's not a great leap to line up the divergent influences and see their handwork in the new album. From the more immediate (the synth pulsing of "Idioteque" and the jazz-section-from-hell cacophony of "The National Anthem") to the more indirect (the open structure of "Treefingers" and the oddly comforting percussion of "Kid A." Greenwood puts it succinctly: "The album as a whole is a distillation of our favorite records. It's basically a band copping styles of music they can't really play. We took bits from lots of other records that other people didn't notice as well. I mentioned Bitches Brew and it was the drumming and the electric piano that was most exciting to us on that album. We love all these records but we can't really play them so we get these songs instead."
Creating Kid A was an intensive effort once the band hit the studio. Vocalist and deferred to leader Thom Yorke (he often refers to Radiohead as "the UN and I am America") wanted to go in a totally different direction. While some members sought to return to the sounds of their earlier work, Yorke wanted nothing to do with it. The creative process of the band would be taken apart and put back together, which was not incredibly easy by some accounts.  A rumor of breakup discussions and 'state of the band' talks surfaced, but was eventually put aside.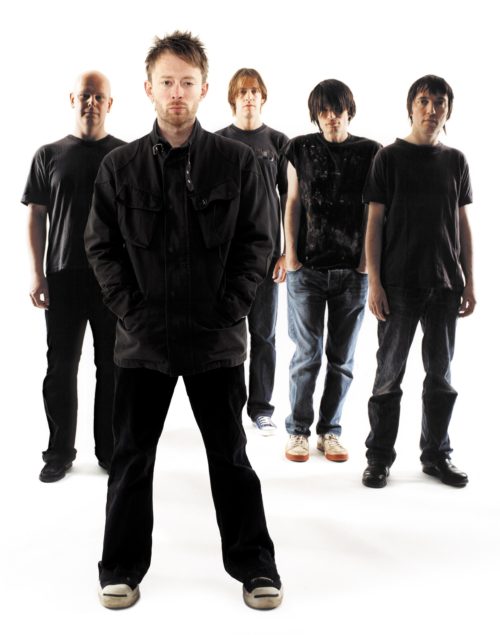 Greenwood admits that the band was reluctant to stop their work in the studio. "It was stressful to a degree to get going and build momentum but suddenly things were going so well. It was difficult to stop because it all felt quite safe and we were recording a lot of stuff. It was hard to grind to a halt after building up so much speed. That was almost more annoying." One of the more interesting experiments had the group split up, one group in one room just creating sounds while the other spent time manipulating the sounds created. While this was a worthwhile exercise, Greenwood says it was essentially fruitless. "That was good for our heads but nothing was ever recorded from it. That was more about getting relaxed in the studio. It wasn't very productive; there was nothing that we'd turn into a song." Eventually the brakes were applied and the band found they had more than enough material to draw from to create the new album. Rumors float that there are between ten to 15 other songs completed but Greenwood declines to be specific. "There are plans for an EP and another album; certainly there's enough for that."
If you identify OK Computer as an album of broad themes and expansive sounds then it is no great leap to see Kid A as the opposite. It is sparse, more introspective and contains far less obvious vitriol than previous albums. This is as far from the sounds of Pablo Honey and The Bends as one might imagine. While keyboards and samples are found throughout the songs, this is not a purely electronic album. Kid A is a much more meticulously manipulated and edited album. Almost every sound has been processed and distilled for its essence before being added in to the final mix. The grand result is an album that is startling in it's elegiac nature and understated beauty.
Radiohead's previous fame was built upon the sound of guitars. It was the crunch of Greenwood's feedback that laced the sweetness of "Creep" with a sharp bite. Greenwood and O'Brien gleefully slashed their way through The Bends, giving manic, howling energy to match Yorke's intense vocals. Kid A has almost none of those sounds, but Greenwood says guitars were still an integral part of the process. "A lot of the stuff was written on guitars far away from the studio and then arranged some time later. It's two very different things for us: writing something and then working out how it's all going to be arranged. When I write songs, I'll write on guitar or piano — whatever's closest really, something that can play chords. It's totally different once we get in the studio and start arranging it."  Greenwood also notes that there's plenty of room to his approach. "It's a balance between not having a great respect for guitars and realizing that sometimes they're perfect."
It's intriguing that when the band gathered to select tracks for the album, they all chose "Everything in Its Right Place" as the lead track. Greenwood says it was unanimous. "We all agreed on what the first track would be right off and then it all fit after that. We decided on a time, about 50 minutes, and then there was a certain flavor to the tracks that fit together."
The muted electric piano and edited/processed vocals make the boldest statement on the new direction the album is traveling. The songs also display Yorke's vocals utilized as an instrument more than on previous albums. Yorke's voice is powerful and emotive, but more engaging and compelling at lower volumes. His soft, mournful delivery to the acoustic strum of "How to Disappear Completely" is stronger than any scream he's ever committed to tape.
The material takes an even more pronounced turn into new territory with the electronic underpinnings of "Treefingers" and "Idioteque." The former is a somber, contemplative instrumental more reminiscent of Brian Eno or the collaborative work that Holger Czukay and David Sylvain produced in the late '80s. The latter strips things bare to let Yorke swing his voice about over a skittering rhythm pattern. His cry of "We're not scare mongering/This is really happening" adds a sense of urgency to the instrumentation. That urgency is also on display in "Optimisitic," the most guitar-driver track on the album. The volume builds as the rhythm holds down a steady pattern for Yorke's voice to spiral upwards and outwards, the guitars soon to follow.
Thematically, there is a slightly mournful touch to Kid A, a sense of disconnection heightened by the open sounds. It appears most powerfully in "How to Disappear Completely" and the closing "Motion Picture Soundtrack." The slow, country-tinged strums and strings of "Disappear" finds Yorke watching himself as he sings "I'm not here/ This isn't happening" and the strings swirl down as the echoes reverberate. The closing track (complete with an extra snippet of instrumental hidden at the end) begins with a somber Ondes Martenot keyboard opening reminiscent of strings and harmonium that lets Yorke float the lines "Red wine and sleeping pills/ Help me get back to your arms." The song ends with a flourish of harps and a chorus carrying our hero off into the "next life"  — where that may be is up to the listener.
Early reviews have wondered what the other members of the band were up to during the recordings, as it can be hard to see where they fit into this album. Greenwood laughs when he insists that everyone was involved in the album, even if it doesn't sound like it. A close listen reveals the band members at work in the various songs. "The National Anthem" is anchored by a fuzz bass from Colin Greenwood (Jonny's older sibling) and drummer Phil Selway, showing its roots as a work that was born from their touring as opposed to a pure studio creation. There is plenty of guitar front and center for O'Brien and Greenwood. There's also a strong drum and bass combination from "Morning Bell" that fits together perfectly without sounding over-processed and produced to death. No, this isn't a stale, electronic sound. This is experimentation at its finest.  
Like the absence of singles, videos will not be part of this new promotional plan. The videos for OK Computer garnered great responses, but Greenwood says the band really doesn't want to do them anymore. "They're just big adverts, aren't they? They all seem so similar and so bloated." Instead of shooting a video, the band is releasing what they call iBlips  — short snippets of animation and video with music from the album in the background released via the internet (found both on the album and on this issue's PCP sampler). In many ways, these are more creative (and certainly more challenging) than the videos. "They're quite a bit of fun, they're much shorter and easier to watch."
Touring is the last thing to get the 'new Radiohead' treatment. Part of this arose from the fact that the band was not happy with the state of many of the venues they played on the last tour. Greenwood discusses the change while bemoaning the state of most music venues. "That was more about getting away from big sports halls with beer adverts that sound awful and don't look much better. People come and see you and they associate the last match they saw there or Celine Dion or whoever. It's very used. Being in control of what people see and hear is the whole point of a concert, really, and when you don't have control for whatever reason, it's kind of disappointing." They sought to remedy this by constructing their own self-contained venue in the form of a tent and lugged it around Europe to debut their new album, This new theatre allowed them to control the sound exactly to their liking, and making something of a splash wherever they went. (Other members have referred to reading Naomi Klein's "No Logo" — a dissection of the pervasive nature of 'corporate multiculturalism' and advertising as the primary choice of this 'ad free' environment, but Greenwood shies way from agreeing completely. He reiterates that the sound is the most important element of this experiment for him.)
Sadly, the tent did not travel to America in Radiohead's first Kid A foray, but the band has been just as careful in their choice of venues. In this first pass the band will play only a handful of shows, do one television appearance (Saturday Night Live) and one radio appearance on Morning Becomes Eclectic in Los Angeles. The choice, or lack of it, has raised more than a few eyebrows, which suits the band just fine. Greenwood insists the band will come back for future touring, but not as part of the standard grind, perhaps bringing the tent. "We're going to try and come back and do a tour in a different way than we have before, something we'll have fun doing."
Greenwood notes that doing away with the repetitive nature of the band's activities is at the core of their decisions. "It does not get like a big slow machine that regurgitates material every three years when we're capable of going a lot faster. We'd like to do more regular releases, more frequent tours. (Laughs) I don't know where the time is going to come from, but that's what we want to do. It's weird, but it's fantastic. it would be weird to go away for two years and only have ten songs to show for it all. We wanted to spend more time creating, more time behind the mixing desk and with all we did there's still a lot of stuff not finished. That's a good feeling."
Perhaps the best way to describe Radiohead right now is that they are doing as much as they want to without closing off any other avenues. Their decision to release a challenging, different record was met with chart success and their scaled back tour has sold out every venue literally in minutes. If there is going to be resistance to the band, it hasn't appeared yet. Greenwood says the most important thing is "We've stopped planning, really. It's really annoying to try to keep planning everything you do. This is what we want to do and when we want to do it." The approach must be working, as Greenwood signs off from the conversation cheery and upbeat. After being thanked for taking the time from his schedule, he sounds almost beaming in his response. "No, not at all. This is still great fun." It's hard not to be just a little envious of their position and the fun they're having.
This edition of the Pop Culture Press CD sampler included an accompanying Radiohead iBlip!