THE PCP INTERVIEW
Standing On Top of the Pile: An Interview with Rockpile's Billy Bremner
by Steve Elliott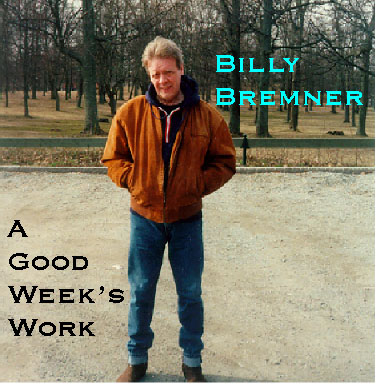 PCP: You've released three solo albums so far: Bash (1984), A Good Week's Work (1998), and No Ifs, Buts, Maybes (2006). What do you look for when you're recording your own albums? What songs stand out for you and how was the experience of recording them?
BB: Bash, I wasn't happy with the song selection. The label wanted me to include tracks I was not happy with. A Good Week's Work actually meant that. I recorded, mixed, and mastered in one week. I had no choice; the budget was miniscule.
PCP: I was really delighted to see you recorded a brand new solo album in 2006. Your song "They Don't Come Much Better" really shines!
BB: No Ifs, Buts, etc. took forever to make. The studios I wanted were so booked up. I had to wait for them to give me whatever time they could, plus the musicians I wanted wouldn't be available at the same time. I couldn't give them definite times for recording. Songs standing out, I don't know. I like "No Ifs." I like the guitar on "Green With Envy," the vocal on "Love is Stranger than Fiction." Most of the stuff I like of mine is on other people's recordings.
PCP: Will you be touring behind the new album? Any plans to come to the US?   
BB: I would love to tour over there again. I would need to find a compatible booking agency. I don't know any. Also, hopefully, a management agency who could take care of everything for me. Again. I don't know any. Do you? I have a great band over here but I also know so many players in the US. So, putting something together would be pretty easy.
PCP: I understand that Sweden is now your new home? What led you there?
BB: I moved here from Nashville basically, to tour with a rock 'n' roll band here called The Refreshments. After three trips over I decided to stay. I produced the band's first three CDs. Also, I knew a lot of people in Sweden from previous visits, and Nashville was getting too expensive.
PCP: When you first started out on guitar, who interested you as a musician and influenced your playing?
BB: I would listen to everything and everyone from Hank Garland, Joe Pass, Jimmy Bryant, to all the different guitarists on the Everlys' records, plus so many more.
PCP: Most people know you for your great work in Rockpile. When and how did Rockpile form? What do you think of the band now and all that you guys achieved together?
BB: We formed in '76 and ended in '80. We formed to do a one-off tour opening for Bad Company. They were on Swan Song like [Dave] Edmunds. We achieved a lot in four years but mainly, the respect we gained from both musicians and public.
PCP: It's my understanding that a Rockpile film, Born Fighters, was made during the duel recording sessions for Nick Lowe's Labour of Lust and Dave Edmunds Repeat When Necessary? Was this film ever released & what's it about?
BB: Born Fighters was made while recording both albums as you said. I'm surprised it wasn't shown over there. I've had so many people over the years tell me how much they enjoyed that documentary. It is very funny, real, no holds barred, live in the studio stuff, mistakes and all. Probably very dated by now. I haven't seen it in years.
PCP: Your songs "Trouble Boys" and "The Creature from the Black Lagoon" on Edmunds' solo albums are true Rockpile highlights.
BB: "Trouble Boys," "Creature," were okay. I thought the solo I played in another song I wrote that Dave recorded, "We Were Both Wrong," was a better memory for me. It was chordy, very simple, but personally it fit the song pretty well.
PCP: What do you remember about Rockpile's appearance at The Concerts for the People of Kampuchea in 1979? It was so cool that Rockpile backed up Robert Plant for "Little Sister"!
BB: Kampuchea was a great event. I remember Pete Townshend jumping on my glittery top hat in the grand finale song. He lost his so, took mine and trampled it. All in good fun but, he was pretty drunk. Robert joined us on "Little Sister." He is an old rock 'n' roller at heart. We had not rehearsed, as you can tell by the very dodgy ending.
PCP: I've heard a Rockpile concert recording from New York City in 1980 where you sang lead on a song, "Cry Cry Cry" and it's excellent. Was this song ever seriously considered for a record as it's so darn catchy?
BB: No, we didn't record it. Well, I know we tried it in the studio but, what happened to it, who knows? Maybe it's been bootlegged.
PCP: I really loved your lead vocal on "Heart" from Seconds of Pleasure.
BB: Thanks, so many people thought it was Dave's vocal.
PCP: A little known fact is that Rockpile backed Carlene Carter on her fine 1980 album, Musical Shapes.
BB: I really enjoyed playing on Carlene's record. I think it was us on one side and some of her American friends on the other. I'm not sure if they were part of Carlene's band in the US or not? I know an old chum, John McFee, played guitar; can't remember anything else about it.
PCP: On stage, Rockpile was definitely a force to be reckoned. What shows stand out for you? Any amusing stories to tell?
BB: Opening for Blondie in New York. We had so many encores (Bill Graham kept telling us, "Go ahead"). I know Debbie Harry was not amused. We were shit-hot that night. Amusing stories: thousands of them, 99% untellable, I'd get shot if I let these be printed.
PCP: Would you consider a Rockpile reunion, either for a one-off concert or recording a new album? What do you think has prevented you all from reuniting as a band since 1980? I know all of the fans would love to see you guys back together. Do you all ever talk to each other?
BB: I would love it but, it will never happen. Everyone has gone their own way, musically and geographically. I have done a few gigs with Dave (Edmunds) lately, I see Nick (Lowe) every now and then but, I have only seen Terry (Williams) three times in all since we split up.
PCP: Billy, one of the many cool musical achievements you've accomplished is playing lead guitar on both sides of The Pretenders' 'Back on the Chain Gang' b/w 'My City was gone' classic 1982 hit single. What do you remember about playing at those recording sessions?
BB: The mood on the recordings was fine. Everyone seemed very pleased with the guitar work but, at the same time, there was an obvious sadness. Jim [Honeyman-Scott] was a good friend of mine and, it felt great when Chrissie and Martin mentioned to me that, they knew he would be happy to know that I was asked to play on the record.
PCP: Your guitar playing is spectacular and perfectly complements and drives both songs! Were you ever asked to join The Pretenders at that point in their career?
BB: No, I was never asked to join the band but, years later I did some live TV shows with them in Europe to promote Packed. I remember playing some good stuff on that album but–there were so many changes made. I think a lot of it was left out.
PCP: Thank you for doing this interview, for all the great music you've made, and for being such a superb guitarist!
BB: Cheers.